Pasta with Simple Cherry Tomato Sauce
Here's a super simple but super flavorful late-summer pasta recipe: orecchiette with cherry tomatoes, toasted pine nuts, basil, mozzarella, and parmesan. It's a classic combination, and it couldn't be more delicious!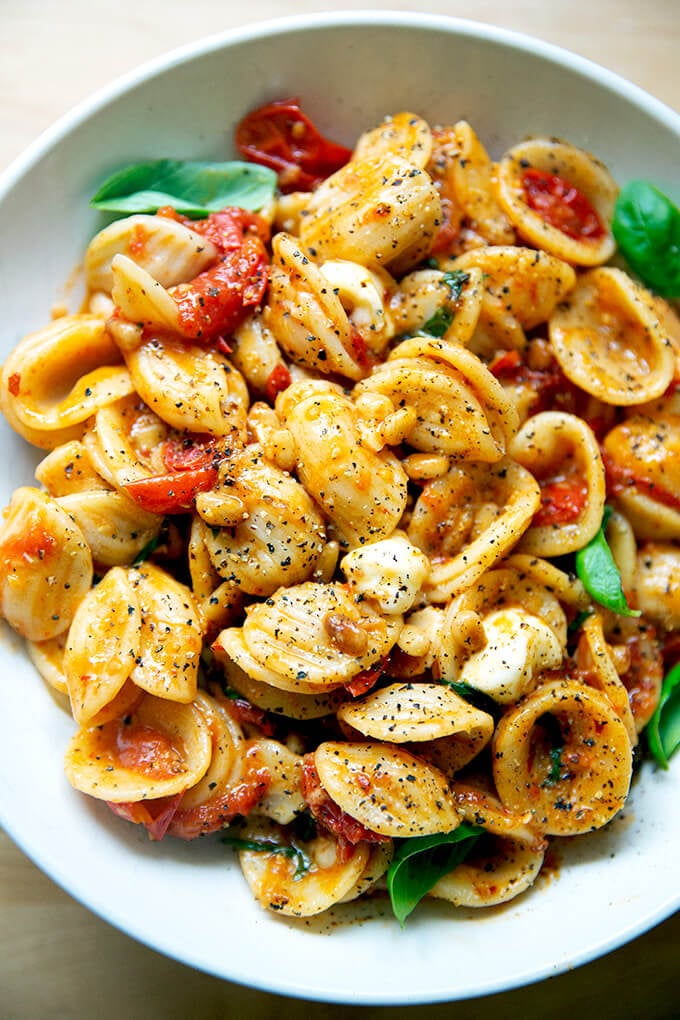 For three weeks in a row, Friday night dinner has been some variation of Marcella Hazan's "fish in crazy water." If you are unfamiliar, fish in crazy water (or pesce all'acqua pazza in Italian), is fish poached in a seasoned "water," in essence a vegetable broth made from sautéed aromatics, tomatoes, and water.
Every time I taste this poaching liquid to test its seasoning before lowering in the fish, I am blown away by its flavor. How can so few ingredients create something so tasty? I wonder. And also: What else could I plunge into this super flavorful sauce?
Pasta of course!
Years ago, I posted a similar recipe here, but the recipe relied on basil pesto, and the tomatoes cooked for only 30 seconds, so the dish was less saucy.
This version is simpler, and I like it better. I like it so much, in fact, I have a hard time NOT returning to the skillet for thirds and fourths. The recipe (theoretically) feeds four people, but when I made it most recently, Ben and I polished off 90% of it. We finished the remainder standing over the skillet, while taking turns cleaning the kitchen.
Friends, as always, I hope you find this super summery late-summer pasta as irresistible and satisfying as I.
Here's the play-by-play: Gather your ingredients: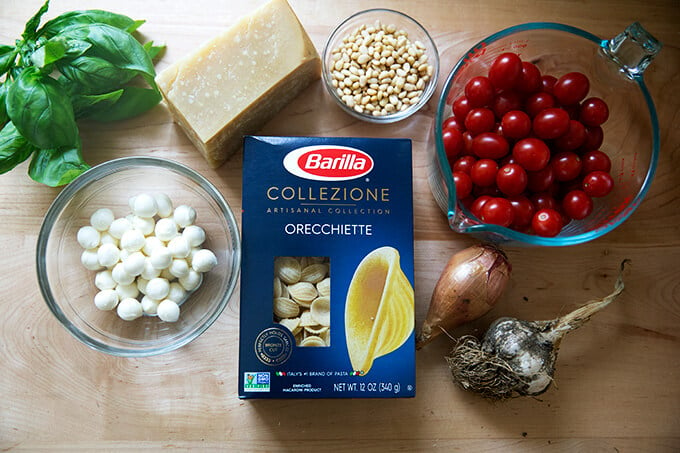 Thinly slice 4 cloves of garlic and 1 shallot (or a small onion).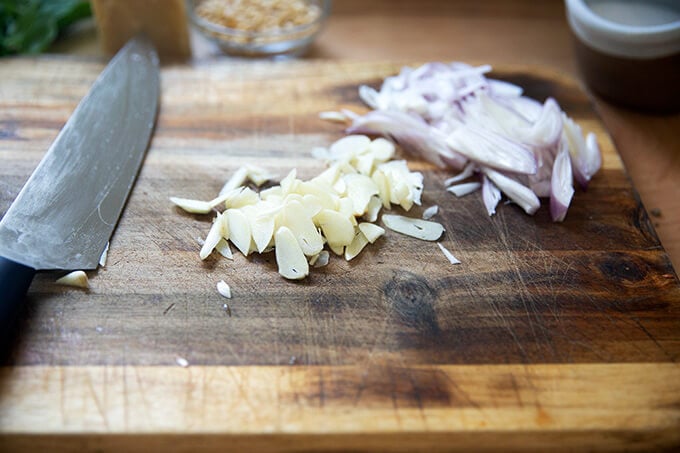 Sweat the onions and garlic stovetop in olive oil. Meanwhile, bring a pot of water to a boil. Place a small skillet over low heat to toast some pine nuts.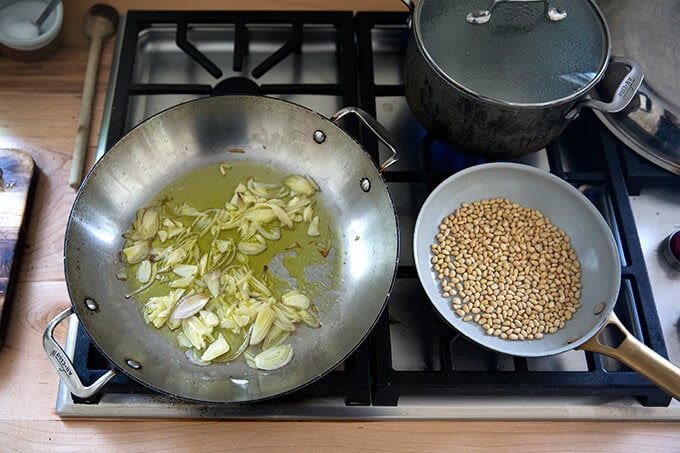 Halve a pound of cherry tomatoes.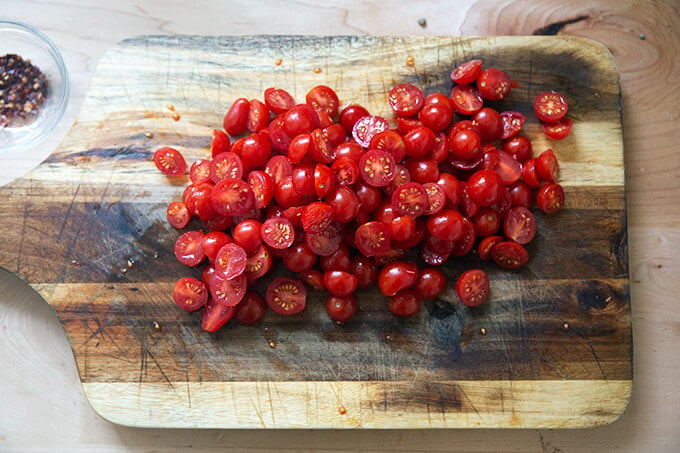 Add them to the skillet along with 1/2 a teaspoon or so of crushed red pepper flakes, and cook for 3 to 4 minutes or until the tomatoes break down; then add a cup of water, and bring it to a gentle simmer.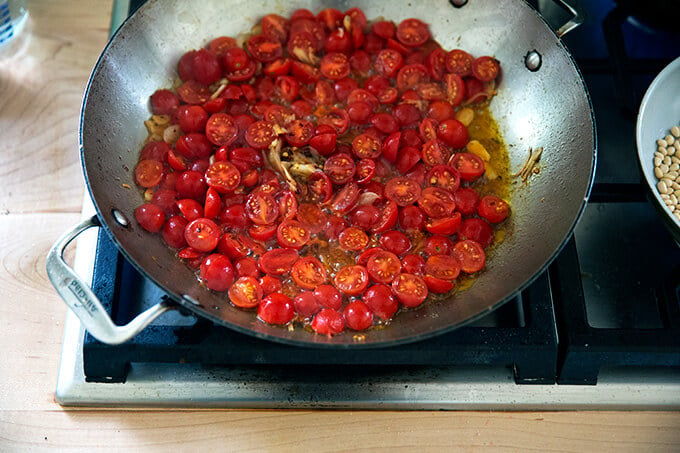 Thinly slice some basil.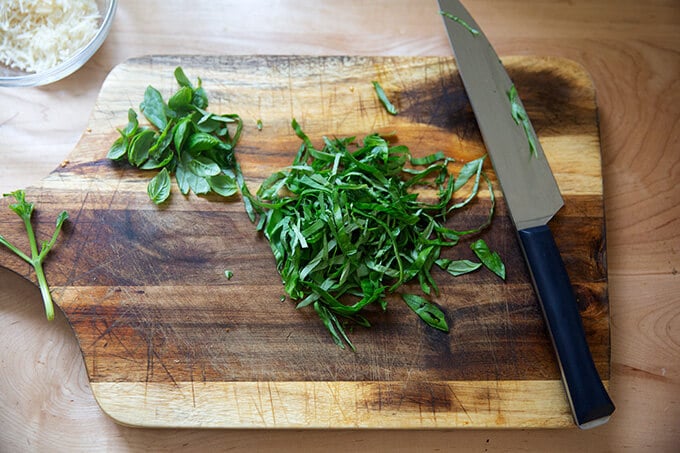 Add the pasta, toasted pine nuts, basil and 1/2 cup of parmesan to the skillet with the tomato sauce, and stir to combine. Season to taste with salt and pepper.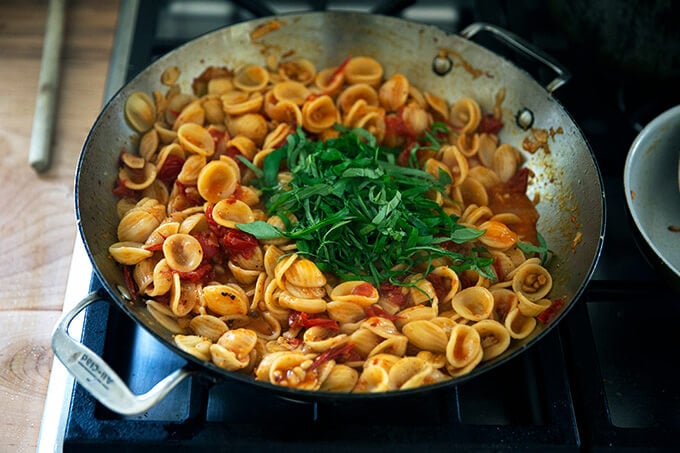 When everything tastes nicely seasoned, add 4 ounces of mozzarella. I like the pearl-sized balls but the slightly larger size (ciliegine) is nice as well.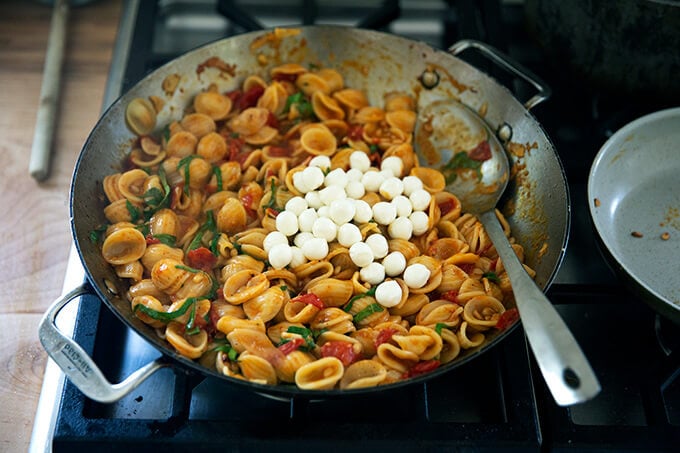 Stir to combine and serve immediately.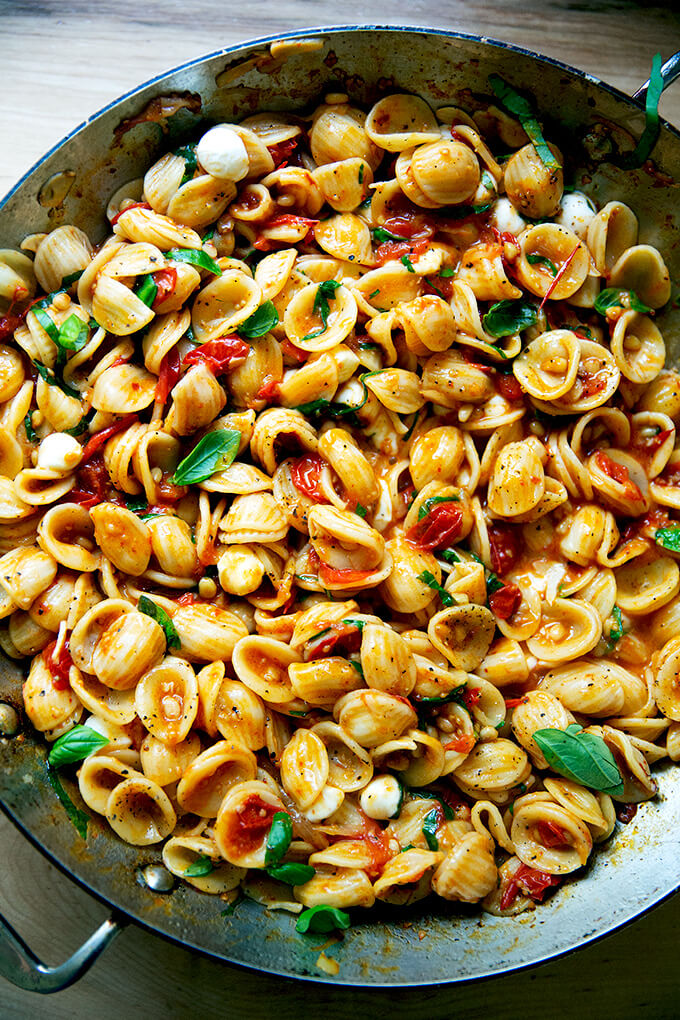 Crack more pepper over each bowl to taste.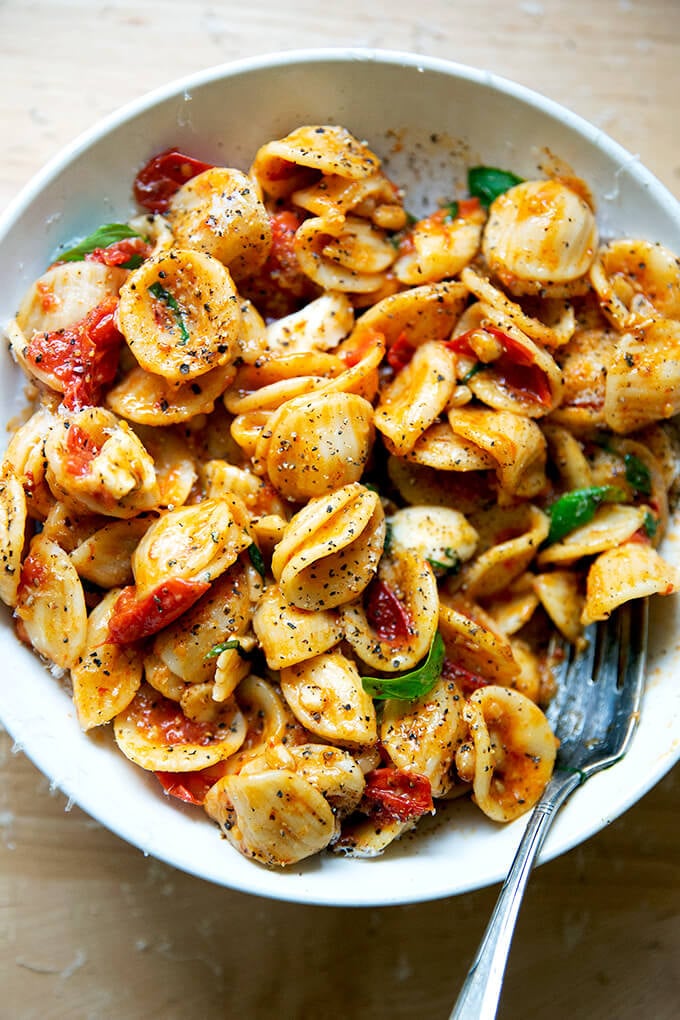 Shave more parmesan over top as well, if you wish.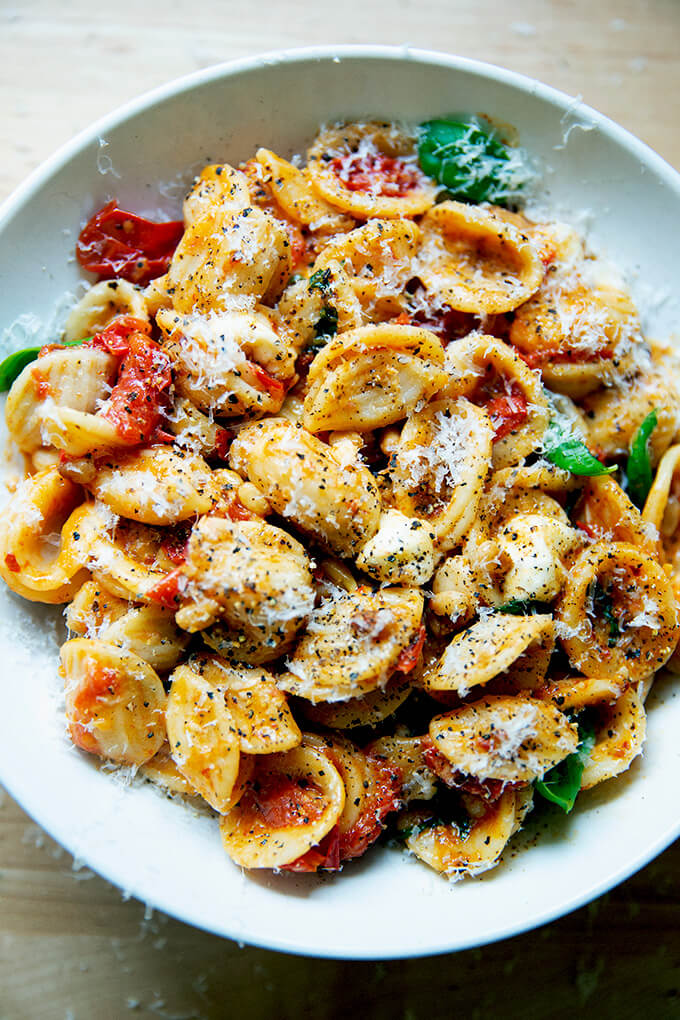 Description
This is a super-simple, summery pasta, a classic combination of flavors and ingredients. If you are looking to bulk it up with some meat, a natural addition would be some browned, hot or sweet Italian sauce. 
Notes:
I love a short pasta for this recipe (as opposed to spaghetti or linguini), and I particularly like the Barilla orecchiette. Conveniently, the boxes are 12 ounces, which is what you need for this recipe. 
I have only ever made this with cherry tomatoes, but I imagine any ripe, juicy tomatoes you have on hand, will work just fine. 
I like the pearl-sized mozzarella balls, packed in brine. The slightly larger sized balls, ciliegine, work fine, too, as would simply dicing up a large ball of mozzarella.
If making for children, consider omitting the crushed red pepper flakes or using just a pinch. 
---
Ingredients
¼

 

cup olive oil

1

 

small shallot, thinly sliced 

4

 

garlic cloves, thinly sliced

kosher salt

12 ounces

pasta, such as orecchiette, see notes above

1/3 cup

pine nuts

1/2

to

1

 

teaspoon crusted red pepper flakes (or less if serving to children)

1

 

pound small, sweet tomatoes, halved, see notes above

1/2 cup

grated parmesan (a little over an ounce), plus more to taste

4 ounces

small mozzarella balls, see notes above

1/2 cup

fresh basil, thinly sliced or more to taste
 

fresh cracked black pepper
---
Bring a large pot of water to a boil. Place the pine nuts in a small skillet and place over the lowest heat possible. 
Meanwhile place the olive oil, shallots, and garlic in a large skillet. Season with a pinch of salt. Turn the heat to high. As soon as you see the oil beginning to shimmer, give the shallots and garlic a stir, cover the lid, and turn the heat to low. Cook for roughly 10 minutes, or until the shallots and garlic are very soft. 
When the pasta water boils, add 1 tablespoon kosher salt. Boil the pasta till al dente, (11 to 12 minutes for the Barilla orecchiette, but check your package for the accurate time). 
Meanwhile, uncover the lid of the pan with the shallots and garlic. Add the crushed red pepper flakes and stir briefly. Raise the heat to medium, and add the tomatoes. Season with a pinch of salt. Cook for 3 to 5 minutes, stirring occasionally, until the tomatoes begin to break down. Add 1 cup of water and bring to a gentle simmer. Taste for seasoning. Add salt and pepper to taste. 
Before draining the pasta reserve a cup or so of the pasta cooking liquid. (You may not need the pasta cooking liquid, but reserve some just in case.) Drain the pasta. Do not rinse or shake. Immediately transfer drained pasta to the tomato sauce and stir to combine. Turn heat to low.
Check on the pine nuts. Increase the heat to medium and stir constantly until the pine nuts are toasted — do not walk away from the skillet for a second. Add them to the pasta once toasted.
Add the parmesan cheese to the pasta as well as fresh cracked pepper to taste. Taste. Season with salt to taste if necessary. Add some of the reserved pasta cooking liquid if the sauce has thickened too much — I have yet to need the reserved liquid, but I always reserve some should I need it. Add more parmesan to taste if you wish. 
When the sauce is tasting seasoned to your liking, add the mozzarella and basil, stir to combine, then serve immediately. Shave more parmesan over top if you wish. Crack pepper over top if you wish as well. 
Category:

Pasta

Method:

Stovetop

Cuisine:

Italian, American
Keywords: pasta, tomatoes, fresh, sauce, summer, parmesan, basil, pine nuts