Christmas Menu 2020: All-Time Favorite Recipes
A few weeks ago, while revisiting this butternut squash lasagna post, I spotted a photo of a Dakin ham, something my aunt always has on hand around the holidays. Feeling immediately nostalgic for Christmases past, I ordered a half bone-in ham.
I'm so looking forward to scoring it, studding it with cloves, and glazing it with some sweet, syrupy concoction, but I'm mostly looking forward to leftover ham sandwiches on the above-pictured rolls (recipe below), smeared with my grandmother's mustard sauce.
I've included all of my favorite Christmas recipes below. If you are serving more of a traditional turkey dinner, this post may offer more guidance. The below recipes are organized as follows:
---
Christmas Eve
To me, nothing is more Christmas Eve-y than mussels, a meal my mother often served for the occasion. Of course, there's no better companion for mussels than good bread. My mother's peasant bread is an excellent choice as is this simple sourdough boule. These oven fries are something the whole family loves, and they're a great match for mussels as well.
A simple salad dressed in a citrus-shallot vinaigrette makes it a meal.
If mussels aren't your thing, I can't say enough about this lasagna, which has been in the rotation a lot in recent weeks:
Butternut Squash Lasagna
One snowy Thanksgiving in Vermont, this butternut squash lasagna, brought to the feast by a vegetarian friend of my aunt's, stole the show. The recipe comes from Gourmet magazine, and it's something guaranteed to please both carnivores and vegetarians alike.
As with the mussels, a simple salad dressed in a citrus-shallot vinaigrette is the perfect accompaniment.
---
Glogg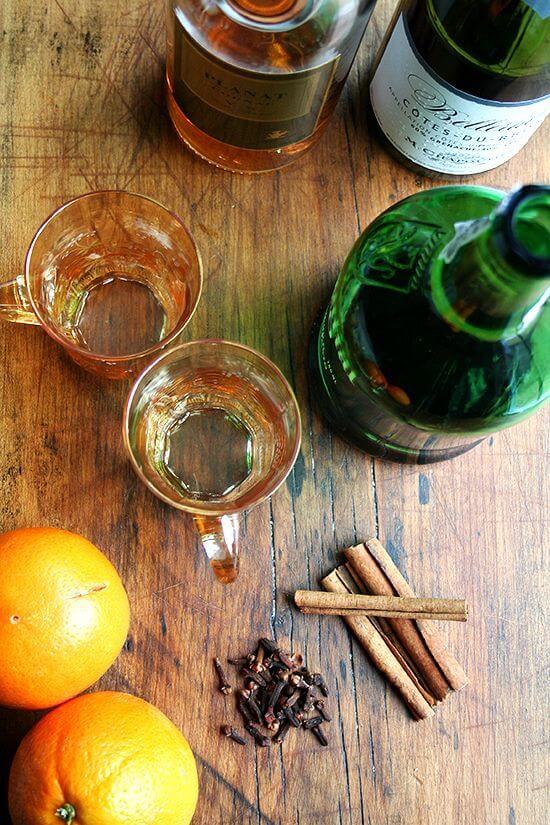 Christmas is not Christmas, at least when I've with my parents, without Glogg. This is my stepfather's specialty, something the whole family looks forward to as soon as the holiday season approaches.
"Glogg," if you are unfamiliar, derives from a Scandinavian word meaning "to glow" or "to warm," which is just what this hot beverage is meant to do: warm you up, get you glowing. Coming from a land where the sun shines seldom in a long winter season, glogg is meant to work immediately, which is exactly what it does.
In a sort of two-pronged attack, glogg enters the system: as vapors swirl off the hot liquid up into the nose making their way to the brain, the liquid itself — a mixture of red wine, port, and brandy — pours through the bloodstream. This is potent stuff, bone-warming, rosy-cheek inducing, party-starting stuff. It's impossible not to belt out the Christmas carols with a glass of glogg in hand.
We love serving glogg as a pre-dinner drink sitting by the fire with a few snacks — cheese, crackers, nuts — on hand.
---
Breakfast (Sweet)
Brioche Cinnamon Buns
Prep these buns on Christmas Eve. Rise to frosted brioche bliss. And to very happy humans.
Two Cranberry-Studded Favorites:
Each of these can be prepped ahead as well. The unbaked scones can be stashed in the fridge (or freezer) the night before baking; the batter for the cranberry buttermilk breakfast cake can also be stashed in the fridge.
Overnight French Toast
This is the easiest French toast you will ever make, and I believe it's one of the best, too. It's crisp on the exterior and custardy on the interior. It emerges from the oven piping hot, ready for syrup, fruit, powdered sugar, or all three.
---
Breakfast (Savory)
---
Dinner
As I noted above, I'm making a ham this year, and I'm 95% convinced I'm making it mostly for the sauce: my grandmother's mustard sauce. Friends, it's so good.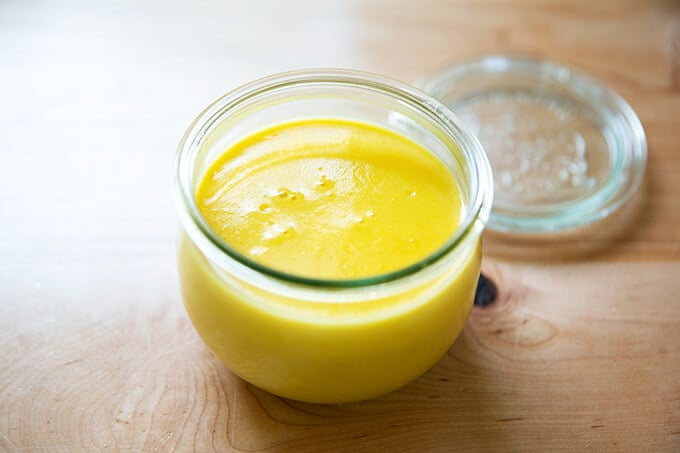 As noted above, if you are making a turkey, check out this post. Here are a few more ideas for Christmas dinner:
---
On the Side
For the past few weeks I've been making a favorite variation of my favorite shallot vinaigrette: citrus-shallot vinaigrette. In this version, the shallots soak in both vinegar and fresh squeezed orange juice, the addition of which makes the dressing a little fresher, a little brighter, and a little lighter. It's so nice this time of year.
I've been using it to dress very simple salads: Boston lettuce tossed with endive, arugula, or whatever looks good at my grocery store. If you're looking for a heartier salad, here are two ideas:
As with Thanksgiving, Christmas dinner isn't Christmas dinner without Alice Waters's potato gratin:
Alice Waters's Potato Gratin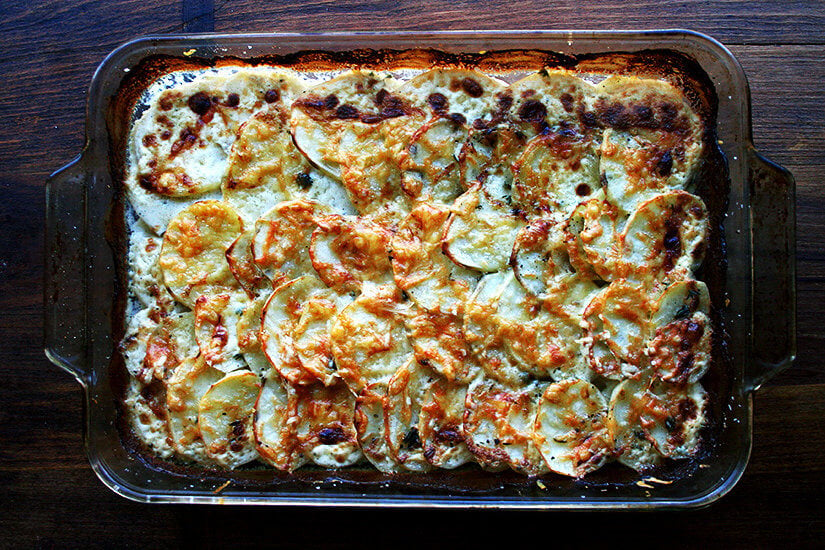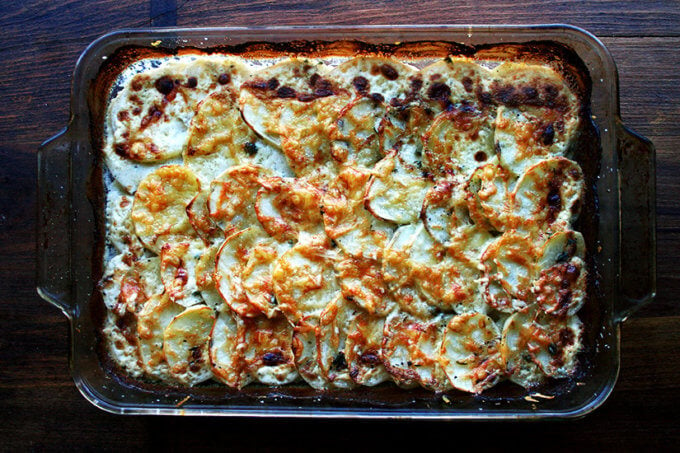 Alice Waters's potato gratin is a dish my mother has served at nearly every big holiday gathering for as long as I can remember. It often steals the show no matter what it's beside, turkey, ham, lamb, or otherwise.
---
Dessert
---
Bread
As I noted in my Thanksgiving post, there is something festive about a roll on the holiday table. And a simple way to make those rolls even more festive is to brush them with an herby, garlicky butter right out of the oven. If you add crushed red pepper flakes* to the mix, the specks of red and green make the buns look especially Christmas-y.
These brioche dinner rolls (recipe below) are the same as these brioche hamburger buns but they're made in pull-apart form. If you portion the dough into 12 balls, as pictured below, the buns will be quite large, but they're perfect for leftover ham sandwiches … decisions decisions.
*Not advisable if needing to children.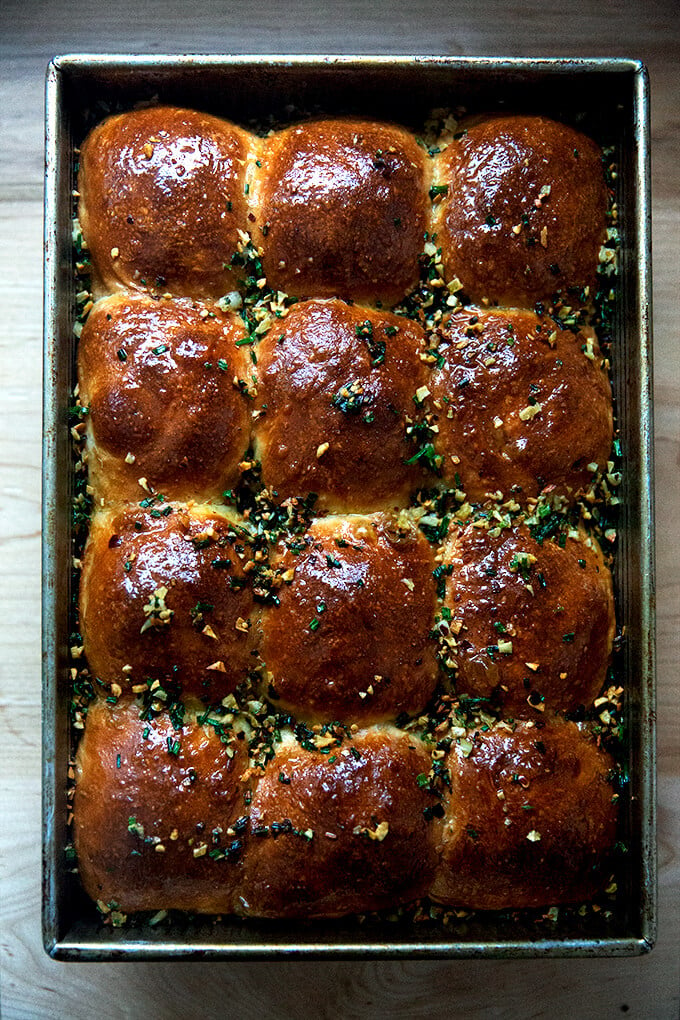 Description
If you have Bread Toast Crumbs, this is essentially 2/3 the light brioche recipe in the book with the sugar cut back by a bit more.
To create a warm spot for your bread to rise, turn your oven on for one minute, then shut it off. That brief blast of heat will create a cozy place for your bread to rise.
As always: for best results, use a digital scale to weigh the ingredients.
Water: Some people find this dough very wet and tricky to work with. If you live in a humid area, I would consider cutting some of the water back. If you are measuring with cups, hold 1/3 cup water. If you are using a scale, hold 75 g. You can always add the water back in when you are mixing if it seems dry.
If using active dry yeast: Whisk the egg with the water. Add the heated milk-butter mixture. Stir to combine. The mixture should be lukewarm. Sprinkle the yeast over top and let stand for 15 minutes or until it gets foamy; then proceed with the recipe.
---
Ingredients
4 cups

(

512 g

) all-purpose or bread flour

2 teaspoons

(

10 g

) kosher salt

2 teaspoons

(

8 g

) instant yeast, see notes above if using active dry yeast

2 tablespoons

(

28 g

) sugar

1 1/3 cups

(

300 g

) cold water, or less, see notes above

1

egg

1/3 cup

(

78 g

) milk

4 tablespoons

(

57 g

) butter
for the egg wash: 1 egg beaten with 1 tablespoon water
For the garlic-herb butter:
2 tablespoons

butter

1 tablespoon

minced garlic

1/4 cup

finely chopped chives

1/4

–

1/2

teaspoon crushed red pepper flakes, optional
pinch sea salt, optional
---
Whisk together the flour, salt, yeast, and sugar.
In a medium bowl, whisk together the cold water and the egg.
Heat the milk and butter together until the butter is melted. Pour this hot mixture into the cold water-egg mixture. The combined mixture should be perfectly lukewarm. Add it to the flour bowl and stir with a spatula till you have a sticky dough ball. Drizzle a teaspoon or two of olive oil over the dough and rub to coat — this prevents a crust from forming on the dough during the rising.
Cover bowl and let rise in a warm area (see notes above) for 2 to 3 hours or until doubled. Alternatively, stick bowl in the fridge immediately and let it rise overnight or for 12 to 18 hours. Grease a 9×13-inch pan with butter or nonstick spray. 
Cover a work surface lightly with flour. Deflate dough, turn out onto work surface, knead briefly, and divide into 12 equal portions (use a scale and weigh each roll if you want perfectly even rolls: about 85 g each for 12 rolls). Note: 12 portions makes for quite large rolls. If you want smaller rolls, divide the dough into 16 portions. 
Using as much flour as necessary, roll each portion into a ball, and place in your prepared pan. (Note: If you refrigerate the dough, you can deflate it immediately after taking it out of the fridge … no need to let it come to room temperature first.)
Let rise until the rolls puff and feel light to touch — 30 to 45 minutes roughly.  Preheat the oven to 425ºF.
Brush rolls with egg wash. Bake 18 to 20 minutes or until golden all around.
Meanwhile, in a small skillet, melt the butter and add the garlic. Cook over low heat just to soften the garlic, 3 to 5 minutes. Remove pan from heat. When the rolls are out of the oven, return the skillet to the heat, add the chives and crushed red pepper flakes, if using, and cook until the herbs begin to sizzle, another minute or so. Brush the warm rolls with the garlicky herby butter. Let stand 5 minutes before serving. 
Category:

Bread

Method:

Oven

Cuisine:

American, French
Keywords: brioche, dinner, rolls, garlic, herb, butter