40+ New Year's Eve Recipes 2020
This New Year's Eve, like most for me in recent years, will be quiet, not really different than any weekend evening, the chances of me staying awake past 10 pm unlikely. But I will make a spritz! And homemade ranch dip or maybe Ina's baked fontina with some pickled crudité on the side. I'll definitely make some crostini. And likely a big pot of soup. French onion sounds right.
Friends, I'm wishing you all the best for a safe and healthy New Year. I hope you get to spend tomorrow evening with people you love, via Zoom or in person, with lots of good nibbles and cheer by your side as you count down to 2021. It couldn't come a second too soon. 🎉🎉🎉🎉
Below you will find a few of my favorite New Year's Eve foods. The post is organized as follows:
---
Drinks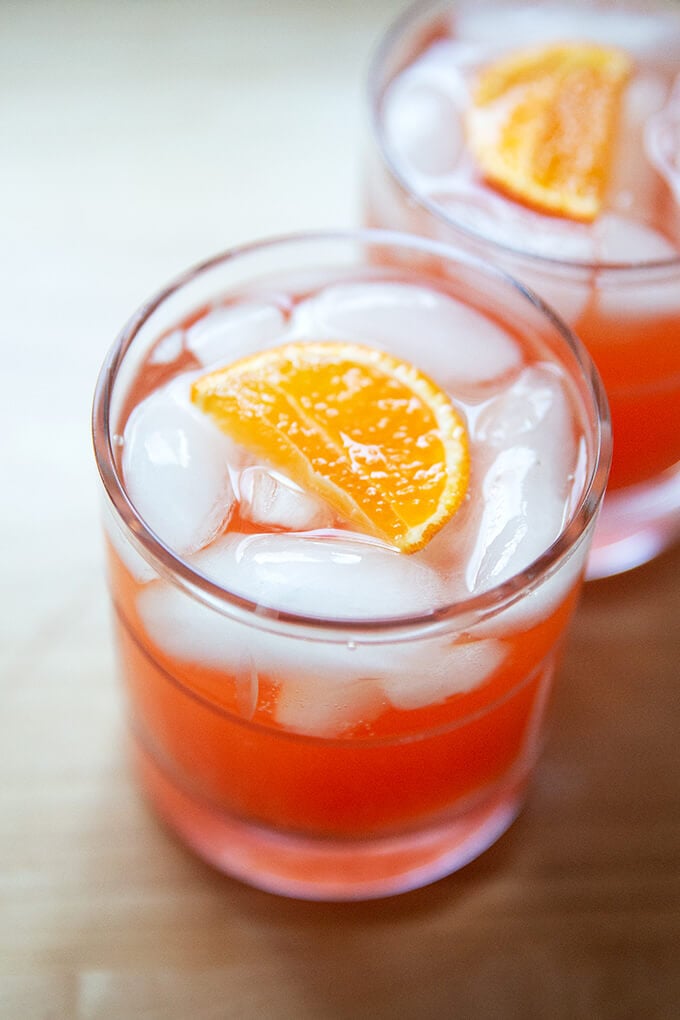 Tangerine Spritz: from David Lebovitz's Drinking French, this is my latest, favorite discovery. It's like a spritz meets mimosa, and I find it so festive and refreshing, perfect for ringing in the New Year.
Here are two other ideas:
---
How to Make Crostini
If you're thinking about making some sort of dip this New Year's Eve, you may want to make a batch of crostini. For its short height — which translates to a short width in crostini form — focaccia is a great bread to use. Here are two easy recipes (this one and this one). Of course, you can use any bread to make crostini. My mother's peasant bread works well, too. Here's what you do:
Heat your oven to 450ºF.
Slice your bread 1/4 to 1/2-inch thick. Transfer to a sheet pan.
Drizzle lightly with olive oil. Season lightly with sea salt.
Transfer pan to the oven and toast for 7 to 10 minutes or until golden.
Serve with cheese, soup, or any of the dips below:
---
Dips
Spicy Cashew Dip with Pickled Crudité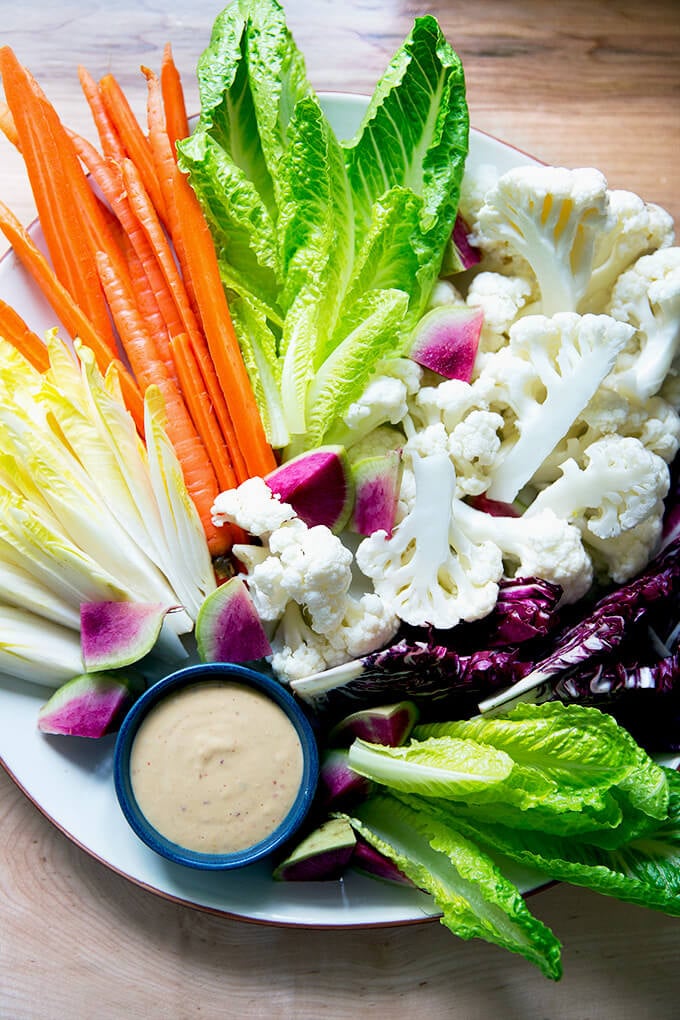 This spicy cashew dip recipe, found in this charred broccoli chopped salad post, is addictive. There's a small amount of fish sauce in it, which gives it a funk, evoking Caesar, but the flavor is more complex: there's spice from the hefty amount of crushed red pepper flakes, a sharpness from the high ratio of rice vinegar to oil, and a nice bite from a clove of garlic. The cashews make it silky smooth.
I love serving it with this pickled crudité.
---
Cheesy Goodness
Baked Camembert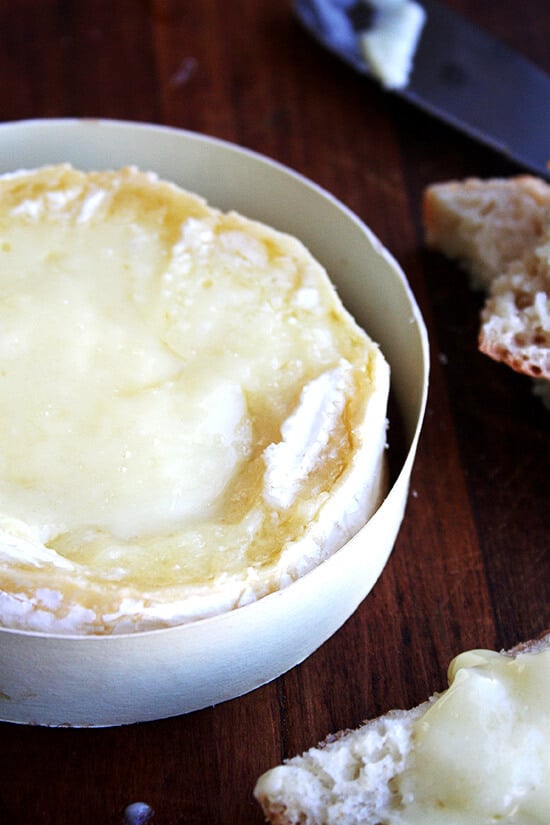 Several years ago, I was flipping through my Martha Stewart Hors D'oeuvres Handbook and landed on the baked camembert recipe. It's so simple it feels like cheating but it's kind of delicious, and if you are pressed for time, it takes no effort.
You need:
One 8-ounce round Camembert cheese, in its wooden container, any paper labels from the front or sides removed
Here's what you do:
Heat oven to 375ºF.
Unwrap the cheese and return it to its box, discarding the wrapping.
Return the lid to the box and place the box on a sheet pan.
Bake until the cheese is completely soft on the inside, about 20 minutes.
Transfer to a work surface, and, if you wish, use a serrated knife to slice off the top rind of the cheese.
Serve with crostini or crackers or bread.
---
Nibbles
---
Bready Bites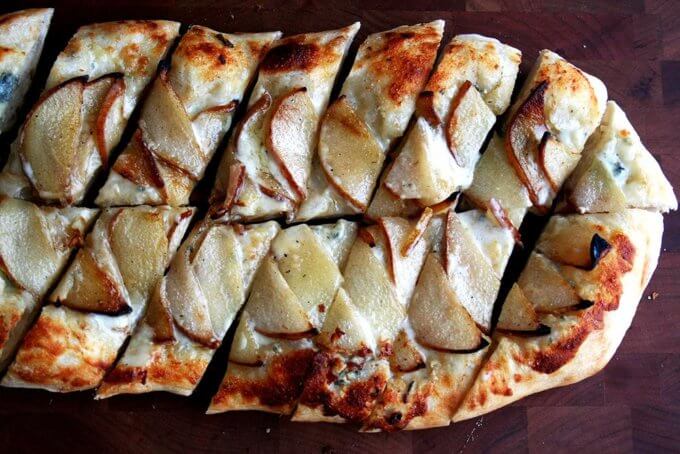 Many years ago while working for a Philadelphia catering company, we served an Alsatian flatbread topped with gorgonzola and pears at nearly every holiday party, and it never failed to be the unanimous favorite.
The process is simple: peel and thinly slice a few pears; then gently sauté them in butter. Meanwhile, melt blue cheese with a little cream; then spread it in a thin, even layer over pizza dough. Top with the sautéed pears; then bake until golden.
This is s perfect, wintry hors d'oeuvre but served aside a salad, I'd call it dinner. I wrote about this for Baking Steel several years ago. Find the recipe there.
---
Homemade Ranch
About this time last year, I discovered this homemade ranch dip, and it soon became a favorite, not only as an appetizer but as a side dish, too, a condiment really, something that moved so fluidly from the first course to the dinner table, something that complements so many dishes, from cauliflower steaks to spatchcocked roast chicken to garlicky chickpeas.
If you've yet to give this one a go, I can't recommend it enough.
Description
From Alison Roman's Nothing Fancy Recipe can be doubled. The recipe below in fact is a half recipe. A few notes:
The recipe calls for labne, which can be difficult to find. I find Greek yogurt works just as well. I like the Fage 5%.
1/2 teaspoon of red pepper flakes offers a nice kick, but if you are sensitive to heat, consider starting with 1/4 teaspoon
For serving, I especially love the way endive tastes with this dip, but serve it with any vegetables you like. If you can find Little Gems, which are like miniature heads of Romaine lettuce, that would be ideal, otherwise, use Romaine — the smaller, sturdier, inner leaves are perfect here, but outer leaves can be chopped into smaller pieces and work just as well. Treviso is another great option. Watermelon radishes are so pretty, if you can find them. Small, turnips are another great option.
---
Ingredients
1 cup

Greek yogurt

1 tablespoon

fresh lemon juice

1/2 teaspoon

kosher salt

3 tablespoons

olive oil

4

scallions, thinly sliced

1/4

to

1/2

teaspoon crushed red pepper flakes, see notes above

1

to

2

tablespoons finely chopped cilantro
flaky sea salt
For serving (see notes above):
endive, quartered through the core or cut into sixths
Romaine leaves
radishes, quartered
carrots, cut into sticks
chips or crackers
---
In a medium bowl, stir together the yogurt, lemon, and salt. Transfer the yogurt sauce to a shallow bowl or plate or serving platter. Use the back of a spoon to spread the sauce across the bowl, creating shallow peaks and valleys in the yogurt — the sizzling oil will pool in these crevices.
Heat the oil, scallions, crushed red pepper flakes, and cilantro in a small skillet or saucepan over medium-low heat. Cook, swirling occasionally, until the scallions and red pepper flakes start to visually and audibly sizzle and frizzle. Season with a pinch of sea salt and remove from the heat.
Carefully pour the scallion oil over the yogurt sauce. If necessary, hold the bowl and turn it to allow the oil to spread evenly over the yogurt sauce — resist the urge to try to combine the yogurt sauce with the oil for two reasons: 1. It won't incorporate very well, and 2. It doesn't look very pretty.
Serve immediately with vegetables or chips or whatever you like.
Category:

Dip

Method:

Stir

Cuisine:

American
Keywords: dip, homemade, ranch, scallions, cilantro, spicy, Greek, yogurt